AR9T Limited Edition Nine Shot Tactical PCP Rifle.
ONLY A SMALL NUMBER OF THESE RIFLES WILL BE MADE 5 TO 10 MAX. FULLY REGULATED ENGLISH HAND MADE RIFLE. MADE IN RIPLEY DERBYSHIRE. FULLY HAND MADE HAND FINISHED AND HARD ANODISED LOCALLY. EACH RIPLEY RIFLE IS MADE TO ORDER WE CARRY NO OFF THE SHELF RIFLES SO THERE IS A WAITING LIST. WHAT YOU GET IS ONE OFF HAND MADE UNIQUE RIFLE AND FUTURE INVESTMENT. CALS AVAILABLE TO ORDER ARE .177 .20 .22 EACH LOTHAR WALTHER BARREL FITTED IS HAND POLISHED AND FINISHED TO A VERY HIGH STANDARD.
ALL HARD ANODISED INCLUDING THE BREECH BLOCK….THE NICKEL BREECH SHOWN IS ONLY ON THE PROTOTYPE. CARBON 500CC 300 BAR BOTTLE. CARBON SLEEVED BARREL. CARBON SOUND MODERATOR. MATCH QUALITY TRIGGER. TACTICAL AR/AK POLYMER FOLDING STOCK. AR/AK POLYMER TACTICAL PISTOL GRIP. HEAVY DUTY BOLT IN STAINLESS STEEL WITH BRASS OR STAINLESS COCKING HANDLE. 300 BAR CONTENTS PRESSURE GAUGE. BREECH HAS STANDARD AND PICATINNY RAILS FOR SCOPE MOUNTING. 9 SHOT INBUILT ROTARY MAGAZINE. DISCHARGE VALVE TO DRAIN AIR FOR BOTTLE SWAP. BOTTOM PICATINNY RAIL FOR TACTICAL ACCESSORIES. AVAILABLE IN .177 .20 .22 SUB 12 AND IN FAC.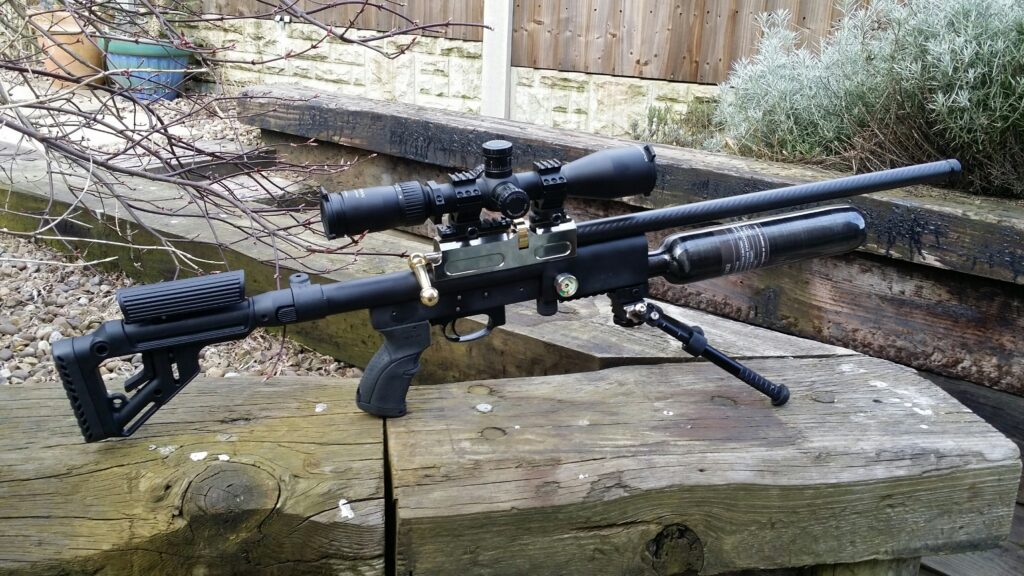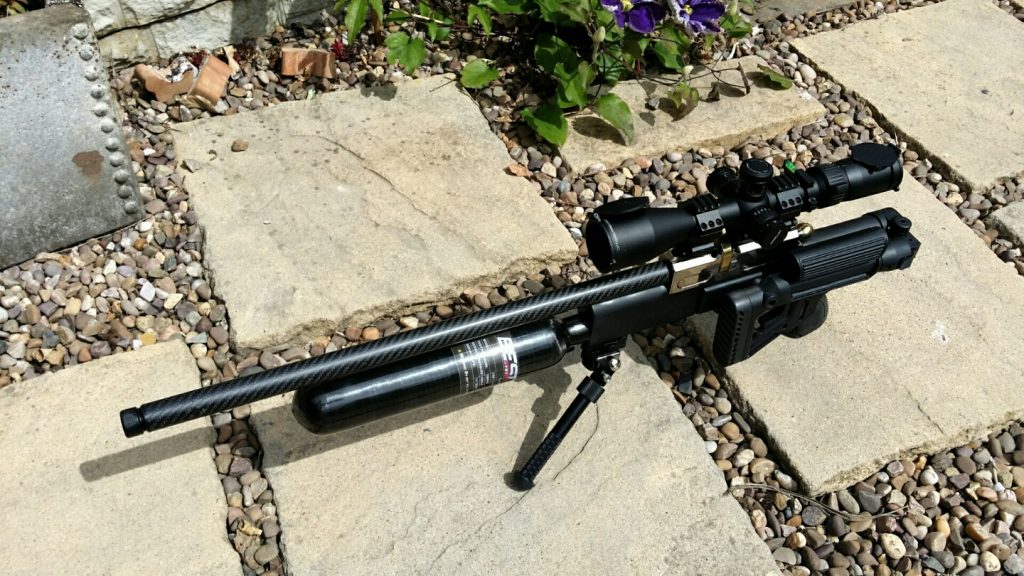 ABOVE AR9T SHOWING STOCK IN FOLDED POSITION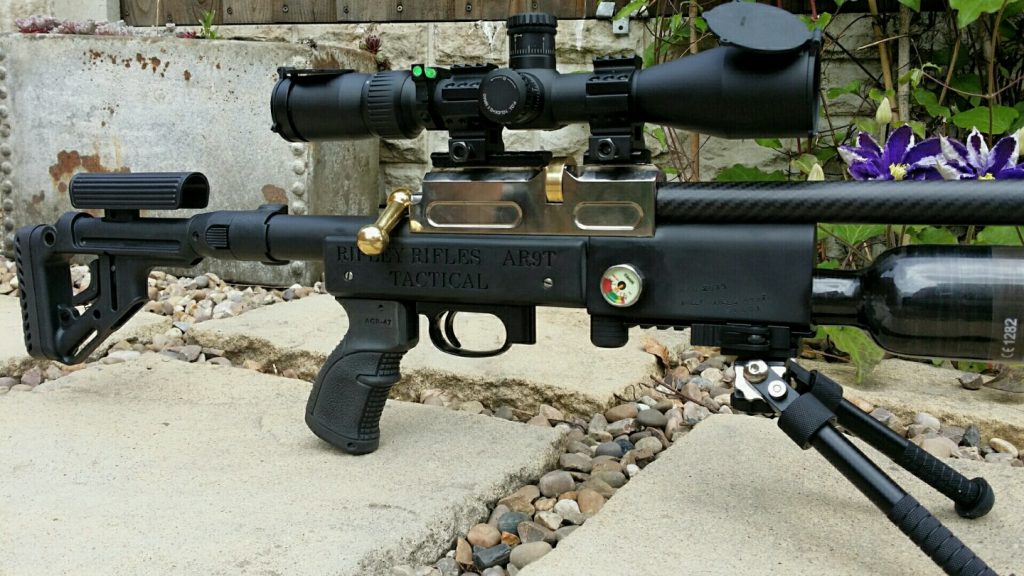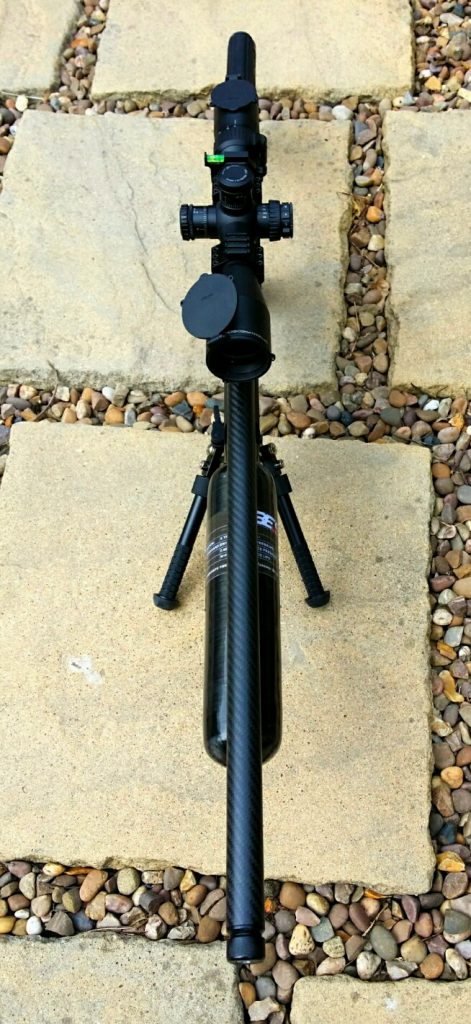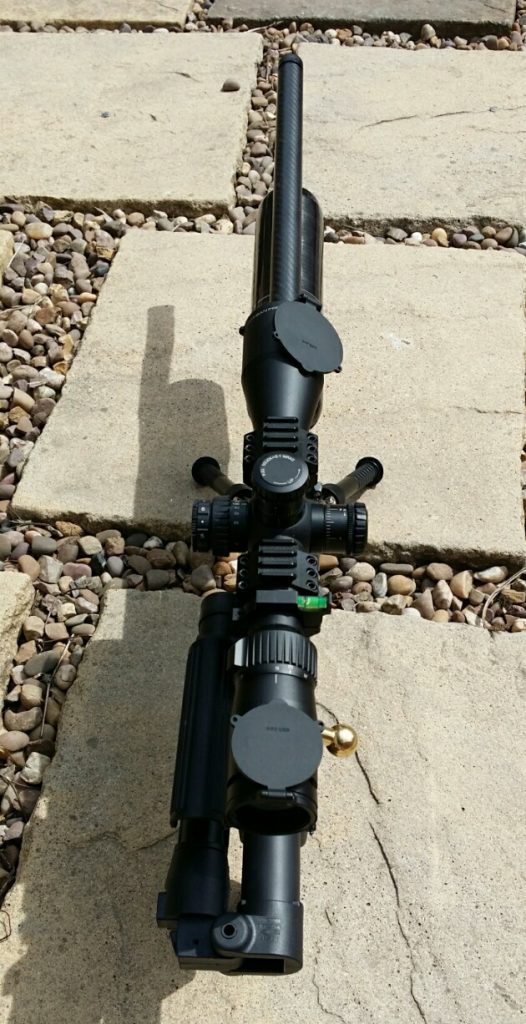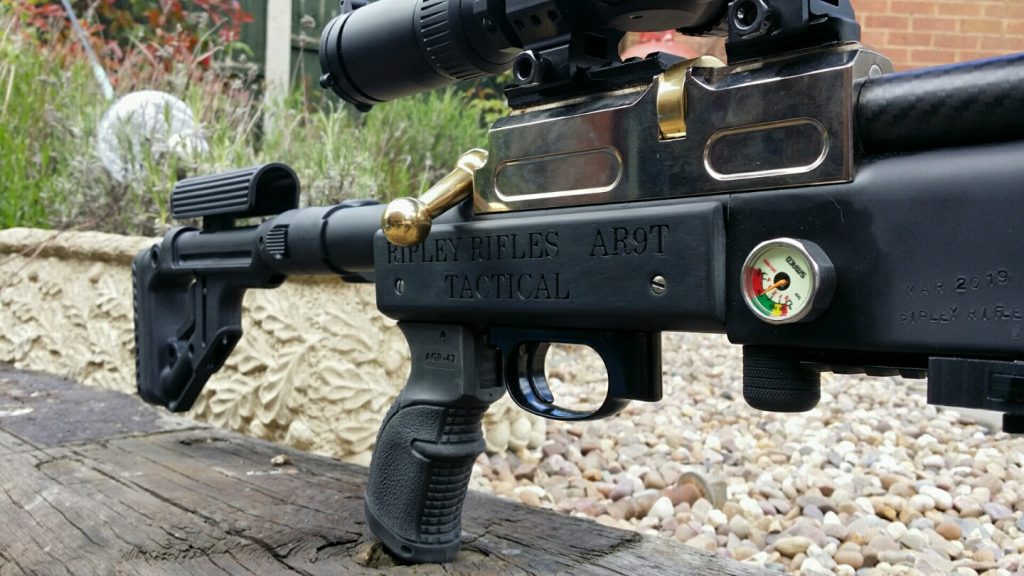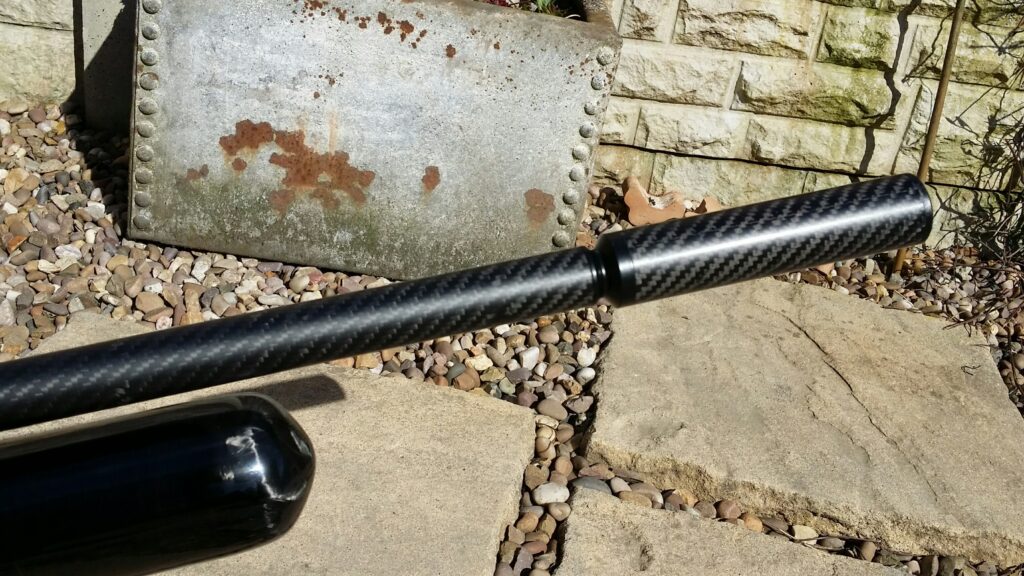 Our New Rifle just launched has a Military Tactical Flavor but has Ripley Style.
It has the XL9 Rotary magazine which is tried and tested loved by many.
Fully floating Lothar Walther Choked Barrel Sleeved in Toray Matt Scratch Resistant Finnish Carbon Fibre.
Comes with a Sound suppressor in black alloy with 1/2″ unf fitting.
300 Bar 500cc Carbon Fibre Air Bottle.
Fitted into each Rifle is a 4000psi (275 BAR) Pressure Gauge.
A Built in Stainless Steel Snap Connector with dust cap as standard.
This Rifle has a Air Discharge Valve to make it easy to do a bottle changes as standard.
Matt Black Breech Block with built in 9 shot Rotary Pellet Wheel.
12mm Dove Tail and 20mm Picatinny Breech Block All in One as Standard.
Picatinny Rail under the Action to fit a For grip or Bi-Pod Etc.
Each Rifle is Fitted with a Fab Defense AR Military folding Butt Stock and AR Pistol Grip made of Glass Fiber re-enforced Polymer available in Black / Tan/ or Green.
Match Ripley Trigger Unit Fitted as standard.
Chunky Ball End bolt Handle in Brass or Stainless Steel.
This Rifle has been made for both Right & Left Hand Shooters the Bolt Handle Can be Flipped over to suit.
There is a Carbon Fiber Sound Moderator option it is whisper quiet for the Hunters or the garden shooters.
The Prototype shown is in .22 and is very accurate in testing at our out door Range. This Rifle will only be made in small Numbers and will have a waiting list.
The pictures also show the 500cc size Bottle option fitted.
Please Note that this Rifle is Not a Light weight. So if you want a feather light Rifle its not for you. It has the weight and feel of something very Special. The weight giving it stability and low wobble keeping it on target.
When you pull the large bolt handle back then forward to load the pellet you get the feel of a Real Rifle…..Ripley Rifles.
PLEASE NOTE THAT THE SCOPES FORE-GRIPS /B-POD SILENCERS AND are OPTIONAL EXTRAS THAT ARE AVAILABLE..